You are only a few clicks away from making your very own, uniquely designed Masu box. Send us your design data to make a special, one and only Masu box.
Just give us your design and we will print by branding, laser, and silk printing.
How about a Masu box with your signature, company emblem, or original design?

Please feel free to contact us.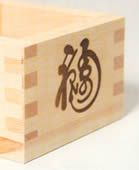 Branding
Using a copper plate, the design is stamped and branded directly on the Masu.
By branding the patterns on wood, the charred cypress creates a natural taste.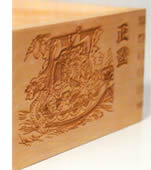 Laser Printing
We can also engrave your favorite design by using a laser machine. By using a laser it is possible to engrave designs of fine patterns and details. It is even possible to print your favorite photograph on a Masu box.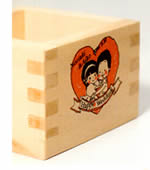 Silk Printing
If you want a colorful design, we recommend silk printing. Choose any color you wish to print on the Masu box.